yoga rope wall lessons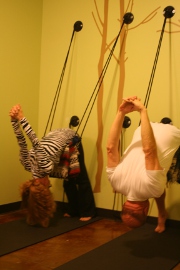 NEW at Namaste!!

We just finished installing a yoga rope wall in our private lesson room. This series of wall anchors, ropes and straps allows you to stabilize balancing poses, deepen your stretches, and work areas of the body that you could not reach on your own. Achieve length, strength, alignment, and ease in the postures like never before!

The rope wall uses gravity as a natural form of resistance, causing the body to open much further than in regular yoga practice. This releases tension from the joints and deeply stretches the entire muscular-skeletal body. Rope poses are especially beneficial for spine health through use of traction to relieve pressure from compressed vertebral discs. They can also be used to create deep opening in the organic body, which nourishes the organs, soothes the nerves, and quiets the mind.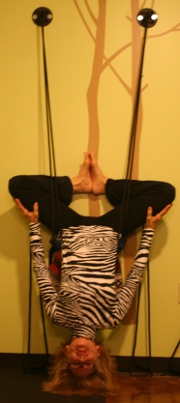 Five Reasons to try the Yoga Rope Wall
1. Discover a new and exciting way to practice yoga
The rope wall can bring a fresh perspective to your understanding of the poses including backbends, forward bends, twists and inversions.
2. Reach places where your regular practice cannot take you
The body is safely supported by the traction of the ropes, stretching and strengthening those hard to reach areas of the spine, shoulders and hips.
3. Reap the benefits of sustaining the poses
Because the body is supported by the ropes, you can completely relax and the poses can be practiced for a longer period of time. This gives you an opportunity to release the entire body more deeply, refine your breathing, go deeper into the experience of the pose and improve circulation to the spine and other parts of the body.
4. Anchor your pose and expand your movement
There is increased mobility in the joints as the body is allowed to move beyond the range of its everyday motions. There is an agility and lightness of movement while also cultivating focus and concentration.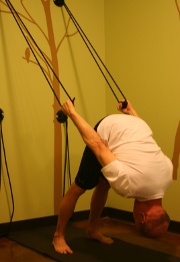 5. Get hooked on the practice
After you feel the immediate results, you will want to get back tot he wall once, maybe even twice a week. You're bound to leave the studio walking taller and feeling an ease and openness in your body.
important notes:
Maximum of two people per lesson
Cost is $60 per lesson for one person, $80 per lesson for two people
Appointments must be scheduled at least 2 hours before appointment time using the link below
Appointments must be cancelled at least 24 hours before appointment time without incurring a penalty
SPECIAL OFFER:
Use coupon code "YRWALL" when checking out to receive $20 off your first lesson!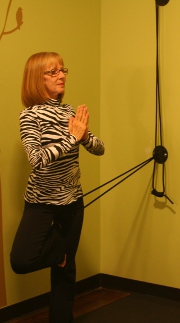 CLICK HERE TO BOOK YOUR APPOINTMENT